State Farm is an American insurance service that has been providing financial security and peace of mind to individuals and families for almost a century. Founded by George J. Mecherle on June 7, 1922, State Farm started as an auto insurance company for farmers. However, it has since expanded its services to include life and home insurance, as well as various financial and banking services. With its headquarters in Bloomington, Illinois, State Farm has become one of the most successful organizations in the United States, ranked 36th in the Fortune 500 list for 2019.
The Evolution of State Farm's Logo
The State Farm logo has undergone several changes over the years, reflecting the growth and transformation of the company. The original logo, used from 1922 to 1936, featured a black car in the center of an oval shape, surrounded by inscriptions that emphasized the company's commitment to service, satisfaction, safety, and economy.
In 1936, as State Farm expanded its insurance offerings, a new logo was introduced. This logo consisted of three horizontal ellipses, each representing a different type of insurance: auto, fire, and crop loss. The red ovals intertwined in the shape of an eight, symbolizing infinity, showcased State Farm's comprehensive coverage. The logo also incorporated a cornucopia, symbolizing the wide range of services offered by the company.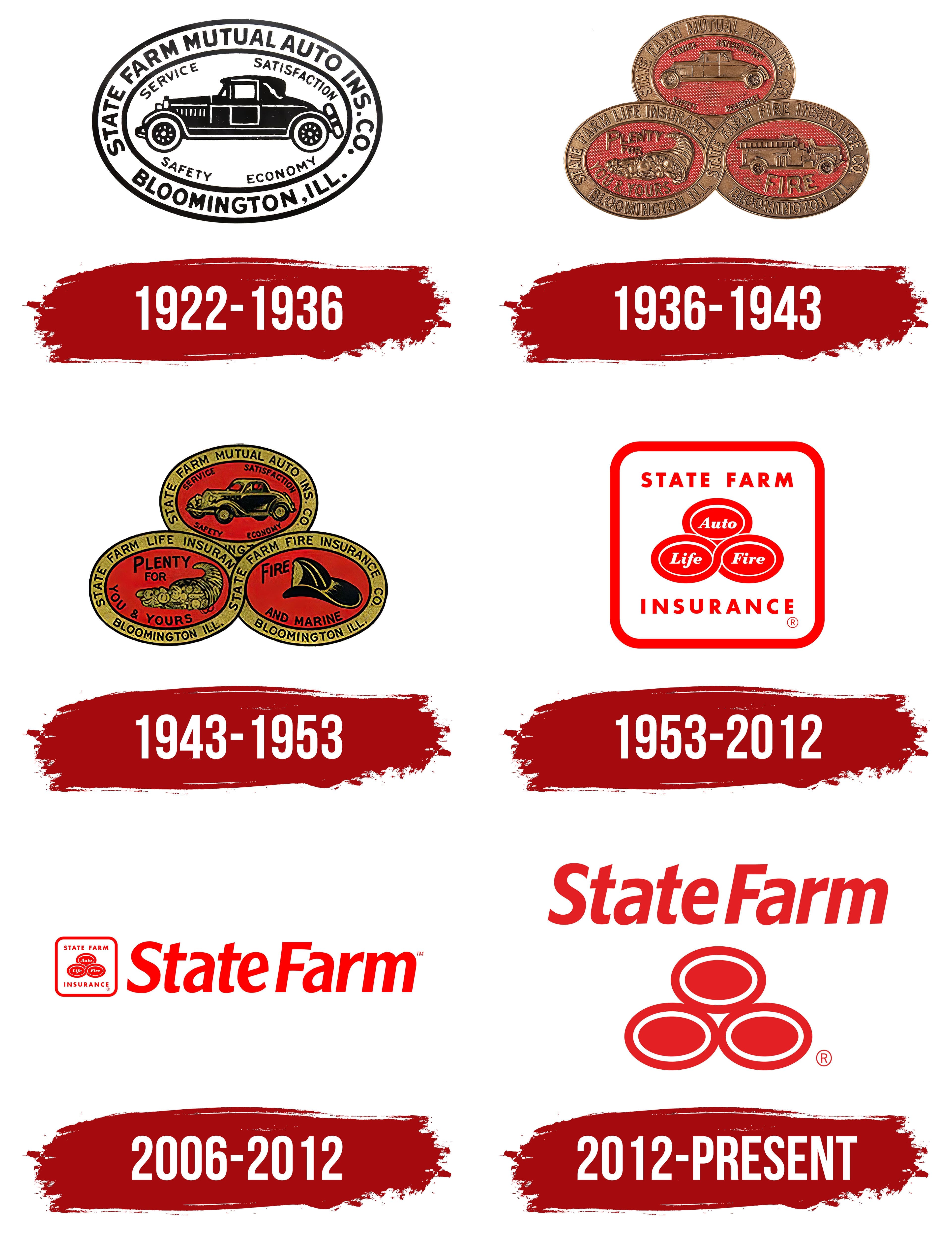 Over the years, the logo underwent further modifications. In 1953, the inscriptions within the ovals were replaced with the words "Auto," "Life," and "Fire," representing the company's core insurance services. This logo, with its scarlet background and white lettering, became an iconic symbol of State Farm for several decades.
In 2012, State Farm unveiled its current logo, designed by the Chermayeff & Geismar studio. The new logo maintained the triangular composition of the three ovals but removed the inscriptions, creating a more minimalist and modern look. This update reflected State Farm's evolution into a broader range of financial services beyond insurance.
State Farm Logo 1922 – 1936
State Farm Logo 1936 – 1943
State Farm Logo 1943 – 1953
State Farm Logo 1953 – 2006
State Farm Logo 2006 – 2012
State Farm Logo 2012 – Present
The State Farm logo is more than just a visual representation of the company. It is a symbol of financial security, trust, and peace of mind. The logo's evolution over the years reflects State Farm's growth and adaptation to the changing needs of its customers. With its bold design, meaningful symbolism, and careful typography, the State Farm logo continues to reinforce the company's position as a leader in the insurance and financial services industry.