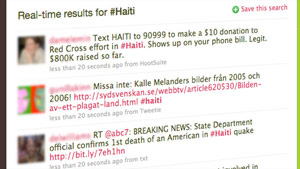 As the world unites behind the victims of the cataclysmic earthquake in Haiti that tragically claimed an incalculable number of lives, social media is now taking a step back from its casual use among friends and its marketing potential for advertisers.  At present, the power of the mobile realm is being harnessed in a number of significant ways to help those suffering in the wake of the unprecedented disaster in Haiti.
From major media outlets like CNN covering the emergency via tweets and other messages from people in Haiti, to websites and large charitable organizations using the mobile platform to raise emergency relief donations for the victims of the earthquake, social media has been used selflessly and successfully in the aftermath of the Haiti earthquake to bring the world together for a cause greater than any other at this moment. Immediately after the earthquake, for example, a call for help was placed by a company called mGive, the result of which was $1.2 Million in donations for the Red Cross in a single day.
As of today, the Red Cross has raised in excess of $3 million in donations via its text message campaign. When you text "Haiti" to 90999, a $10 donation is given that will post to your cell phone bill. Circumventing checks, credit cards, and even PayPal, the mobile platform has made raising funds for emergency relief more expedient than any time recorded in human history. Meanwhile, Wyclef Jean's "Yele Haiti" is tapping into the same proven potential with his campaign to get people to text "YELE" to 501501, which will make a $5 donation.
From CNN: "There's no doubt that text message donations coupled with the word-of-mouth buzz provided by Twitter and Facebook are proving a powerful combination in the Haiti relief efforts, not to mention the vital role of those services in bringing us first-hand reports in real-time."