Stunning October Quotes For Fall
Are you looking for some October quotes to celebrate this amazing month? Well, look no further.
With the change in weather after a glorious summer, orange leaves, dropping temperatures, and cozy nights by the fire are all starting to find their way back into our lives.
October is the 10th month of the year and is the heart of fall, October is also a month for celebrating Halloween.
Celebrated on October 31st, the eve of All Hallows' Day – it's believed that spirits wander the earth freely.
So if it's Halloween quotes you're looking for, we've got that covered too!
10 Lovely October Quotes
"I'm so glad I live in a world where there are Octobers."
― L.M. Montgomery
"In October, a maple tree before your window lights up your room like a great lamp. Even on cloudy days, its presence helps to dispel the gloom."
― John Burroughs
"The clear light that belongs to October was making the landscape radiant."
― Florence Bone
"Hello October, I've missed you"
― Unknown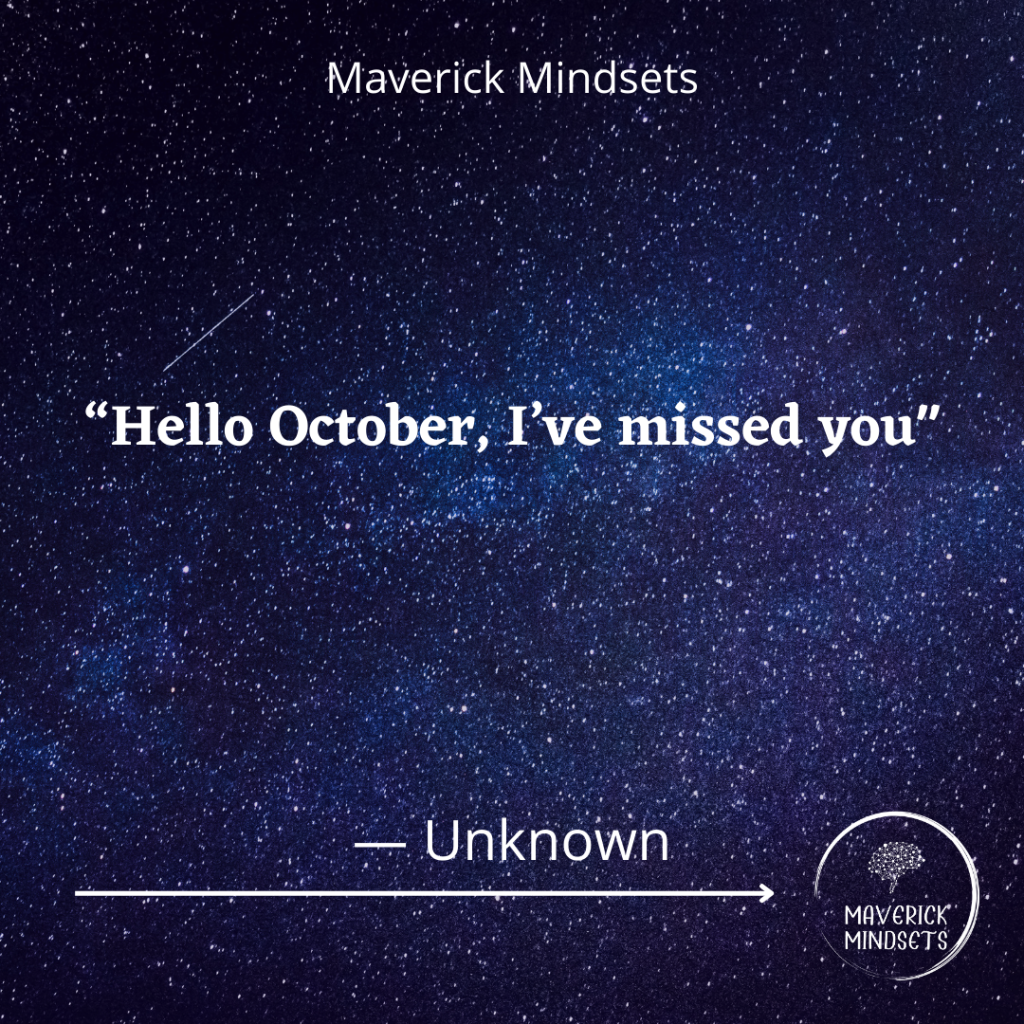 "October is the treasure of the year and all the months pay bounty to her store."
― Paul Laurence Dunbar
"October, the extravagant sister."
― Oliver Wendell Holmes
"Fall is favorite season. The time when everything bursts with it's beauty, as if nature had been saving up all year for the grand finale."
― Lauren Destefano
"My favourite color is October"
― Unknown
"The crickets still sing in October. And Lilly, she's trying to bloom. Though she's resting her head on the shoulder of death, she still shines by the light of the moon."
― Kevin Dalton
"October made the leaves on Main Street fit for a crown. They dripped from the trees in jewel-toned shades: yellow and orange and fiery red. The cool wind sent a confetti-cluster of leaves down around us."
― Natalie Lloyd
10 October Quotes For A Lovely Month
"It takes a strong man to be with a woman full of fire and stars and all of October."
― Melody Lee
"October is a symphony of permanence and change."
― Bonaro W. Overstree
"October is the fallen leaf, but it is also a wider horizon more clearly seen. It is the distant hills once more in sight, and the enduring constellations above them once again."
― Hal Borland
"October is the opal month of the year. It is the month of glory, of ripeness. It is the picture-month."
"You ought to know that October is the first Spring month."
― Karel Capek
"Let's spark up October and make it better than September."
"I have been younger in October than in all the months of spring."
― W. S. Merwin – Henry Ward Beecher
"We live in a world where there is something incredibly nostalgic and significant about the annual cascade of autumn colors and leaves."
― Joe L. Wheeler
"October had tremendous possibility. The summer's oppressive heat was a distant memory, and the golden leaves promised a world full of beautiful adventures. They made me believe in miracles."
― Sarah Guillory
"Let's be honest: you can't celebrate fall without it's leading role – pumpkin! You can incorporate this flavor of the season in so many ways, from candles to lattes, pies to decorations."
― Rachel Hollis
10 Happy October Quotes
"October is a hallelujah! Reverberating in my body year-round."
― John Nichols
"Ah, September! You are the doorway to the season that awakens my soul, but I must confess that I love you only because you are a prelude to my beloved October."
― Peggy Toney Horton
"What could be more exciting than an October day? It's your birthday, Fourth of July and Christmas all rolled into one."
― Peggy Toney Horton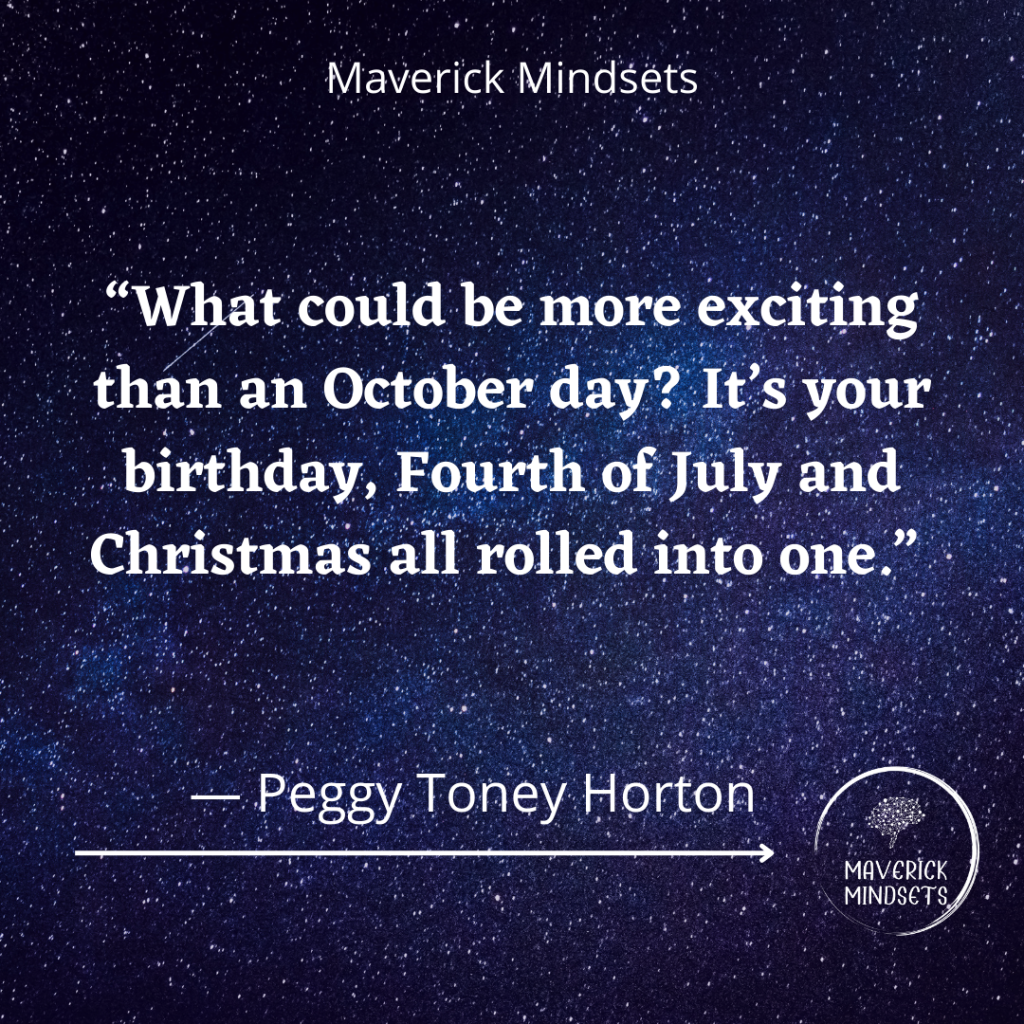 "Autumn serenades the breeze into dancing a cha cha cha; the mountains echo in the background. October sky never looked more charming nor the sublime leaves of the trees so graceful."
― Avijeet Das
"I'm an October baby, yes."
― Cardi B
"Gardeners are never wicked are they?' said Ruth. 'Obstinate and grumpy and wanting to be alone, but not wicked. Oh, look at that creeper! I've always loved October so much, haven't you? I can see why it's called the Month of the Angels."
― Eva Ibbotson, The Morning Gift
"A boy who loved Autumn. A girl who was forever October."
― Nitya Prakash
"Take it all in, enjoy every moment, hold on to the experience that is October. Abundance . . . Beauty . . . LIFE."
― Julie Hage
"Take it all in, enjoy every moment, hold on to the experience that is October. Abundance . . . Beauty . . . LIFE." Julie Hage
"Finally. October is here. Oh I have missed you, my birth month."
― Unknown
"October's poplars are flaming torches lighting the way to winter."
― Nova Bair
10 Of The Best October Quotes Ever Written
"I wish that every day was Saturday and every month was October."
― Charmaine J. Forde
"October turned my maple's leaves to gold; The most are gone now; here and there one lingers; Soon these will slip from out the twig's weak hold, Like coins between a dying miser's fingers."
― Thomas Bailey Aldrich
"O autumn! My very soul is wedded to it."
― George Eliot
"In the entire circle of the year there are no days so delightful as those of a fine October."
― Alexander Smith
"Ah, Lovely October, as you usher in the season that awakens my soul, your awesome beauty compels my spirit to soar like a leaf caught in an autumn breeze and my heart to sing like a heavenly choir."
― Peggy Toney Horton
"October extinguished itself in a rush of howling winds and driving rain and November arrived, cold as frozen iron, with hard frosts every morning and icy draughts that bit at exposed hands and faces."
― J.K. Rowling
"O suns and skies and clouds of June, And flowers of June together, Ye cannot rival for one hour October's bright blue weather."
― Helen Hunt Jackson
"October, baptize me with leaves! Swaddle me in corduroy and nurse me with split pea soup. October, tuck tiny candy bars in my pockets and carve my smile into a thousand pumpkins. O autumn! O teakettle! O grace!"
"Long afterward, many would remember those two days in the first week of October with vividness and anguish."
― Arthur Hailey
"If human beings had genuine courage, they'd wear their costumes every day of the year, not just on Halloween."
― Douglas Coupland
10 Quotes That Will Make You Love October
"Sweet October, fill with praise, Rich and glowing as thy days, Every poet's heartfelt lays."
― Caroline May
"Chicago is an October sort of city even in spring."
"Bittersweet October. The mellow, messy, leaf-kicking, perfect pause between the opposing miseries of summer and winter."
― Carol Bishop Hipps
"There is October in every November and there is November in every December! All seasons melted in each other's life!"
― Mehmet Murat ildan
"The majority of my work is from life. I spend most fine days from May to October painting outside."
― John Dyer
"O hushed October morning mild, Begin the hours of this day slow. Make the day seem to us less brief."
"In October I confessed my love for her, and she allowed me to kiss her."
― Ivan Bunin
"October is a fine and dangerous season in America. a wonderful time to begin anything at all. You go to college, and every course in the catalogue looks wonderful."
– Thomas Merton
"And close at hand, the basket stood With nuts from brown October's wood."
― John Greenleaf Whittier
9 Famous October Quotes
"October's foliage yellows with his cold."
— John Ruskin
"And when it all burns in the wake of October It's the month when everything can be over, and all turns to dust When the night comes, think October."
— Stephen Lee Bruner
"October sets thy leaves ablaze, and warms my muse to sing thy praise."
— James Riggs
"And when October goes, the snow begins to fly, above the smoky roofs, I watch the planes go by"
— Johnny Mercer
"October here's to you. Here's to the heady aroma of the frost-kissed apples, the winey smell of ripened grapes, the wild-as-the-wind smell of hickory nuts and the nostalgic whiff of that first wood smoke."
― Ken Weber
"October sunshine bathed the park with such a melting light that it had the dimmed impressive look of a landscape by an old master. Leaves, one, two at a time, sidled down through the windless air."
― Elizabeth Enright
"Autumn is the antidote to stifling summer."
― Terri Guillemets
"And all at once, summer collapsed into fall."
― Oscar Wilde
"If the leaves are changing, I feel poetry in the air."
― Laura Jaworski
"October in scarlet and russet and grey, ishymning of Plenty and wine…
How calm is the morn! In high treble the stream, is singing in rambling measure
Like a bard all enrapt that would catch on a theme, in the mazes of Fancy and pleasure!"
― James Rigg
11 End Of Summer Quotes
"After the keen still days of September, the October sun filled the earth with mellow warmth."
― Elizabeth George Speare
"The reason must be October, the trees are falling away and showing their true colors."
― Charmaine J. Forde
"October is crisp days and cool nights, a time to curl up around the dancing flames and sink into a good book."
― John Sinor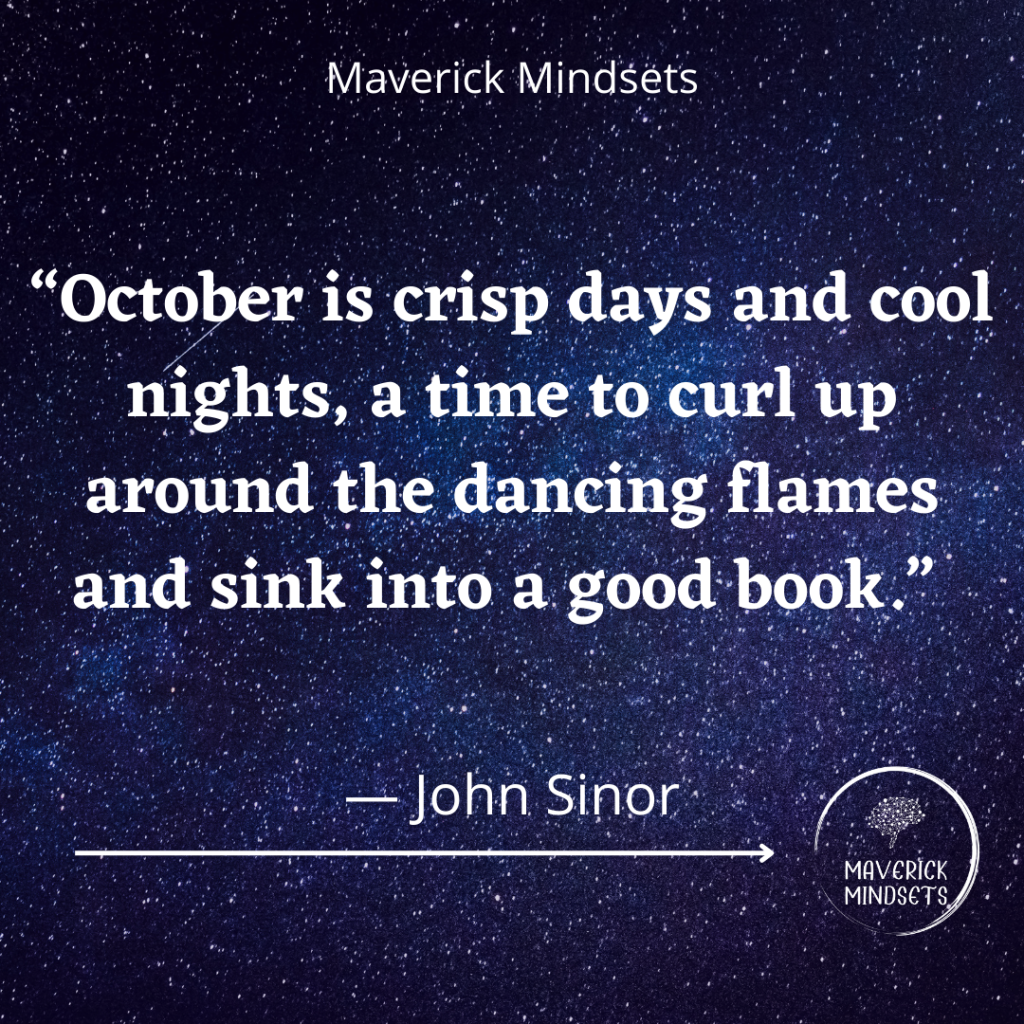 "There is no season when such pleasant and sunny spots may be lighted on, and produce so pleasant an effect on the feelings, as now in October."
― Nathaniel Hawthorne
"Listen! The wine is rising and the air is wild with leaves. We have had our summer evenings, now for October Eves."
― Unknown
"The wind grew cold. The leaves turned red. The bark turned red. The soil turned red. The stars turned red. Something was wrong with October."
― T.R. Darling
"The end of the summer is not the end of the world. Here's to October…"
― A.A. Milne
"The leaves fall in the autumn, and it looks fantastic."
― Hubert De Givenchy
"Autumn is the mellower season, and what we lose in flowers we more than gain in fruits."
― Samuel Butler
"Listen! The wind is rising, and the air is wild with leaves, we have had our summer evenings, now for October eves."
― Humbert Wolfe
"The trees are in their autumn beauty, The woodland paths are dry, Under the October twilight the water Mirrors a still sky."
― W.B.Yeats
10 Quotes For Lazy October Days
"All things on earth point home in old October; sailors to sea, travellers to walls and fences, hunters to field and hollow and the long voice of the hounds, the lover to the love he has forsaken."
― Thomas Wolfe
"October, tuck tiny candy bars in my pockets and carve my smile into a thousand pumpkins…. Merry October!"
"How beautifully leaves grow old."
― John Burroughs
"October is crisp days and cool nights, a time to curl up around the dancing flames and sink into a good book."
― John Sinor
"Autumn leaves don't fall, they fly."
― Delia Owens
"October was always the least dependable of months … full of ghosts and shadows."
― Joy Fielding
"The fallen leaves in the forest seemed to make even the ground glow and burn with light."
― Malcolm Lowry
"There is something in October sets the gypsy blood astir: We must rise and follow her, When from every hill of flame She calls, and calls each vagabond by name."
― William Bliss
"First of all, it was October, a rare month for boys."
― Ray Bradbury, Something Wicked This Way Comes
My mother, in the last years of her life, became very negative, and it's hard to listen. I remember one day, I said to her, 'It's October 1 today,' and she said, 'I know, isn't it dreadful?' It's hard to listen when somebody's that negative."
― Julian Treasure
11 Quotes To Celebrate Halloween
"Shadows of a thousand years rise again unseen, voices whisper in the trees, tonight is Halloween!"
― Dexter Kozen
"Never trust anything that can think for itself if you can't see where it keeps its brain."
― J.K. Rowling
"October proved a riot a riot to the senses and climaxed those giddy last weeks before Halloween."
― Keith Donohue
"He loved October. Had always loved it. There was something sad and beautiful about it, the ending and beginning of things."
― Jacqueline Woodson
"He loved October. Had always loved it. There was something sad and beautiful about it, the ending and beginning of things." Jacqueline Woodson
"The Halloween wind was blowing, not a blasting of wind but a right-sized swelling, falling, and gushing of wind."
― Eleanor Estes
"Every day is Halloween isn't it?"
— Tim Burton
"Anyone could see that the wind was a special wind this night, and the darkness took on a special feel because it was All Hallows' Eve."
"I love Halloween, and I love that feeling: the cold air, the spooky dangers lurking around the corner."
― Evan Peters
"I would rather sit on a pumpkin and have it all to myself, than be crowded on a velvet cushion."
― Henry David Thoreau
"Some people are born for Halloween, and some are just counting the days until Christmas."
― Stephen Graham Jones
"When life gives you pumpkins, make pie."
― Elbert Hubbard