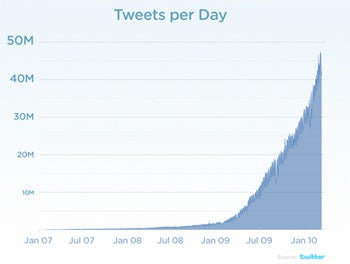 Although Twitter is yet to find a revenue model on par with its popularity and influence on mass media today, Twitter has proven a veritable gold mine for marketers, entrepreneurs, and other businesses who have used Twitter's platform as an effective means to promote their brands, products, services, or even just their mere existence.
Just how big has Twitter become? This week, the microblogging juggernaut reveals that users put out 50 million tweets per day.  And the numbers tell the story of growth. In 2007, people were tweeting 5,000 times a day. The following year it was 300,000. In 2009, 2.5 million tweets were put out per day. Today's 50 million tweets per day amounts to roughly 600 tweets per second.
Tweets grew 1,400 percent last year to 35 million per day. Today, we are seeing 50 million tweets per day — that's an average of 600 tweets per second.
While some questions remain about whether or not new user registration is actually in decline, the users who have already caught Twitter-fever show no signs of kicking the "disease" any time soon. It should be noted, however, that Twitter is still not the busiest social network around. Facebook and its 400 million-strong community update their pages/statuses approximately 60 million times per day.