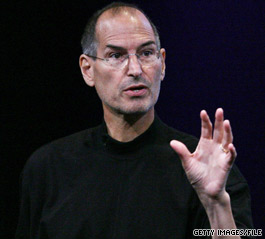 Looking thin but strong, Steve Jobs took the stage this morning at Apple's annual September media event to introduce a new lineup of exciting offerings from Apple.
"So today we're introducing something really great," said Jobs. "And that's iTunes 9. The next major release of iTunes."
In addition, Jobs unveiled pre-made ringtones that will now be available from four major record labels through iTunes.
The ringtones (which number over 30,000) will be priced at $1.29 each.
"Now today we have something new for iPhone and iPod touch users: Phone 3.1, with a bunch of new features and bug fixes," Jobs next revealed.
iPhone OS 3.1 will be available later today.
Jobs also touched on the ever-expanding inventory of the App Store, which now boasts some 75,000 iPhone and iPod apps.
Please stay with Mobile Marketing Watch for more news and updates from Apple's media event as they become available.